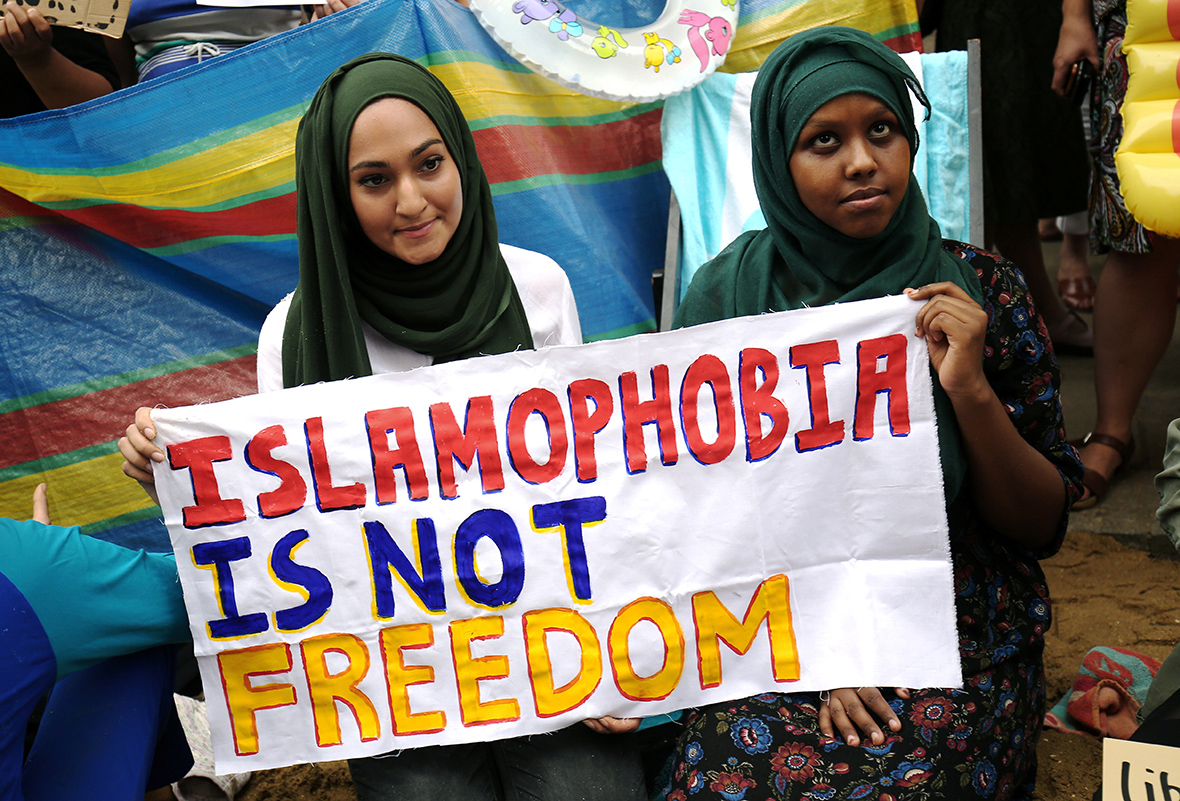 As a Christian theologian and an ardent champion of women's rights, it used to bother me when I saw traditionally garbed Muslim women walking behind their menfolk.
The teachings of my own faith have too often been used to justify the oppression of women, so I saw this as yet another religiously sanctioned form of women's enforced submission to men.
But this is America 2016, where a Muslim woman attending a university famed for its tolerance can be threatened with a fiery death unless she removes her hijab.
So maybe it's not about submission.  Maybe it's about the freedom to walk in peace.
Since Donald Trump won the presidential election after a campaign noteworthy for savage misogyny and racist rhetoric, there has been a surge of hate crimes against women and minorities.  Muslim women in particular are targeted, easily recognizable when they choose to wear the hijab as a sign of their devotion to God. Muslim men can be targeted as well.
After 9/11 some Americans associate all Muslims with the rise of Islamic terrorism.  However as of 2015, there were only about 25,000 militants in the Islamic State – in contrast to the approximately 3.3 million Muslims living peacefully in America!
Do the math.  Clearly the vast majority of Muslims would rather be about the business of living than killing in the name of their God.  In the face of ever-increasing Islamophobia, some Muslims have courageously spoken out against those who would torture and kill in the name of Allah:
If only Christians would do the same.
A terrifying article in Newsweek  speaks of American terrorists who hide among us, the "right-wing militants who, since 2002, have killed more people in the United States than jihadis have."  They target minorities and non-Christians, and are predominantly white males who claim a Christian identity.
How sickening.
They have obviously managed to miss the entire point of Jesus' teachings:
"Blessed are the peacemakers, for they shall be called sons of God."  (Matthew 5:9)
If we decline to judge all Christians based on these terrorists, how can we judge all Muslims based on violent extremists claiming a Muslim identity?
There is a symbol some of us are wearing now to indicate we do not hate, that we are safe people whom others can walk with, if they feel unsafe or would like to share their stories and be heard.  It's a safety pin.
It's not a perfect symbol; some have decried it as too little, too late.  Others think it's uber-embarrassing at best, and patronizing at worst.  But I like it.
Because just as the safety pin holds things together, so can the "perfect love that casts out fear," gather us together and make us ALL safe.
True, hate can unite us.  So can walking the path of peace and love.  One destroys, the other frees.  Muslims know this too, for it is written into their holy book:
"And the servants of the Most Merciful are those who walk upon the earth easily, and when the ignorant address them harshly, they say words of peace…" – Surah 25:6
Maybe Muslim Americans could teach the rest of us the ways of peace.
God knows we are not a free people until all of us  walk in peace.